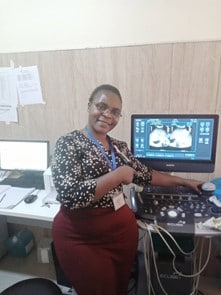 As long as ultrasound training in Tanzania is closed due to curriculum reforms, the Foundation's focus will be on strengthening the knowledge and expertise of the current crop of - already trained - sonographers
Due to the restrictions surrounding Covid19, it was not within the possibilities of the Foundation this year to travel to Tanzania and offer hands-on training.
Regina Namumba, a long-time acquaintance of the Foundation, a highly experienced and well-trained sonographer with whom the Foundation worked fruitfully at the Mount Meru Hospital in Arusha has made herself available to act as a senior hands-on trainer for our sonographers. In 2022 she has given a follow-up course to several sonographers.
Since Regina now lives in Tabora, on the other side of the country, the students have to make a long journey and stay in Tabora for 10 days. The travel, accommodation and training costs are financed by the foundation.