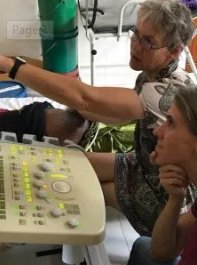 On Zanzibar, near Stone Town, we met Johanna, a German obstetrician, who has been working there for more than 10 years in a small maternity clinic. The clinic had received a second hand ultrasound device from Europe (Germany). Because Johanna had little experience in making ultrasounds, the device was still packed. Together we stripped the echo device from its wooden case and started working with Johanna. Johanna has learned the basics of ultrasound in a short time and has now found a German doctor on the island willing to come and help her with the ultrasound once a week.
We remain in contact with Johanna and can provide her with training - on-line.
A fully equipped delivery bag was also handed over to Johanna and her colleagues so that the worn instruments could be replaced.