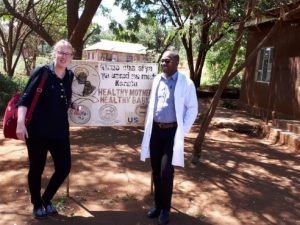 The Karatu Health Center is located in a rural district in the Northern Tanzanian Arusha Region.
The Karatu Health Center is a public hospital. Women can get free pregnancy checks and give birth for free. With few resources, care is provided here to a large number of pregnant women. Around 180 women give birth every month.
During the work of the Wombs of the World organization in this hospital, it became clear that there is a great need for an echo device. Wombs of the World saw with its own eyes how ultrasound can contribute to the quality of prenatal care. That is why the organization has started a collection campaign for an echo device. She has asked the Meru Foundation to train one of the local doctors in ultrasound and its implementation.
A candidate, Wilson Simpa, has been selected in consultation with the hospital management. Wilson mentioned the Endallah Lutheran Dispensary in recent years. He was the only physician there and in that capacity recorded extensive experience in mother and child care.
Our board member Saja said Wilson in Moshi in April. He turned out to be very motivated and enthusiastic to become proficient in ultrasound. They discussed the terms of the sponsorship agreement and the contract was signed. We arranged a training place at the KCMC hospital and housing for Wilson.
During the same trip, Saja also visited the Karatu Health Center, where she met Dr. Gyunda, the responsible officer. They discussed the practical side of the collaboration and the introduction of ultrasound in the hospital. Saja was also given a tour of the hospital. What particularly stood out was the large number of pregnant women and mothers with children who are helped here daily.
Wilson Simpa has now successfully completed the ultrasound training and has been back in Karatu since August. Wombs of the World has raised the money for the ultrasound machine and the consequences are running for the purchase. In the meantime, Wilson Simpa is gaining echo experiences in the concept of Karatu Lutheran Hospital.
To further ensure the quality of obstetric ultrasound at Karatu Health Center ,the next candidate from this hospital is now on the waiting list for the ultrasound training at the KCMC hospital.