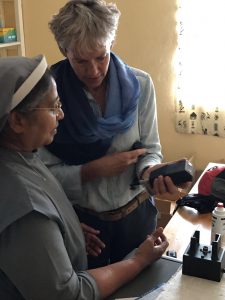 Ngurdoto is a small place with around 3000 inhabitants at the foot of Mount Meru near Arusha. The town has a Dispensary where 2 sisters of the Carolus order accompany births.
They proudly stated that they have been able to provide very good care with a minimum of equipment to date. When in doubt, they send the pregnant women to an hospital in Arusha for an ultrasound. A doptone, a device with which the heart sounds of the unborn baby can be heard, would be a welcome asset. The Foundation has been able to provide the sisters with a doptone. The Mount Meru Foundation can look back on a year in which various projects have been realized.
We stay in touch with the people in the Mount Meru hospital, the Regional Manager of the Arusha region, Johanna, the midwife in Zanzibar and the sisters of the Carolus order.
New contacts have been made in Tanzania and on Zanzibar with which we are working on the next request for help.