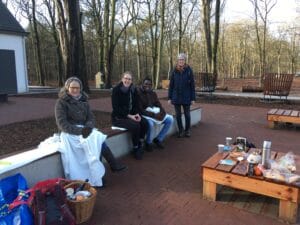 As foundation Mount Meru we could not go to Tanzania in 2020. Fortunately, Tanzania was able to come to us last month: our coordinator Yona visited the Netherlands!
After all formalities had been arranged, our board member could receive Saja Yona at Schiphol in mid-January.
Unfortunately, many activities had to be canceled due to the lockdown we are in, but fortunately there was a meeting with our board members Margriet and Annalied.
We met Yona during a fully corona proof picnic followed by a walk. We exchanged experiences and discussed plans for the future.
After a nice introduction, Yona flew back to Tanzania in early February, carrying a doptone from the Mount Meru Foundation for the Karatu Health Center in his luggage.
It is still uncertain when we will be able to visit our projects in Tanzania again. We will keep you informed!