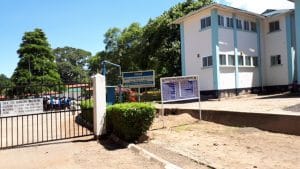 Hopeful news from Arusha: last year the Mount Meru Hospital again made more ultrasounds with the device that we were able to deliver to them thanks to your support.

In 2017, the Mount Meru Foundation was able to positively answer the request for help from the Mount Meru Hospital: the radiology department of the hospital was equipped with a beautiful portable ultrasound device, the Mindray Z6.
We are now more than four years later. We recently received the annual figures from the hospital again and these are extremely encouraging. There is still a clear upward trend in the number of echoes made since the installation of the device.
In 2017-2018, 3422 ultrasounds were made, in 2020-2021 there were 4960 ultrasounds and in the past year no less than 5438 ultrasounds. Among these were 3,317 pregnancy ultrasounds, bringing the proportion of pregnancy ultrasounds down to about 61 percent.
The ultrasound device has therefore proven to be more than worth its investment. Despite intensive use, it still functions neatly and satisfies just fine!
The Mount Meru Hospital continues to scan!