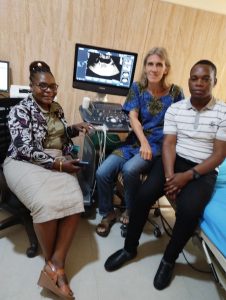 Thanks to your donations, midwives Andrew Simwinga and Johanna Omar were able to follow extensive hands-on training in December with our local trainer Regina Namumba. They look back with gratitude on their ten-day training.
Andrew works as a midwife and sonographer at St. Joseph Hospital Ikelu in the Njombe region of southern Tanzania. He already has two years of experience as an ultrasound technician. He applied to us because he wanted to become more proficient in order to be able to help the pregnant women in the region even better.
"I really feel much more confident after this training", he looks back. "Regina is a good teacher, she knows how to make her students understand things. I found that very inspiring. I have been able to expand my skills and experience. It was a golden opportunity for me. Thanks to this support, I can provide quality care and save the lives of many pregnant women. I really appreciate this sponsorship and promise to provide the good services you expect from me!"
Johanna works as a midwife on the island of Zanzibar. Our foundation was recently able to provide her with a mobile echo device. With this training in her pocket, Johanna can now provide mobile pregnancy checks in the outlying areas of the island. "In these two weeks I have learned a lot about obstetric and gynecological ultrasounds. I am very grateful to the foundation and Regina for this."
Our trainer Regina looks back with satisfaction on the training she was able to give Andrew and Johanna. "They have both progressed well and have seen many different cases. Johanna and Andrew are fast learners. I hope they will apply what they have learned here to their workplaces."
It was the first time that Regina gave training to several students from our foundation at the same time. She indicates that this is worth repeating because it gives the learning process an extra boost.
Two sonographers on training thanks to your support!"