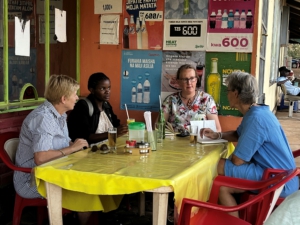 After a fruitful weekend in Karatu, it's time for a long road trip to the base of Mount Kilimanjaro. Along the way, we enjoy beautiful vistas, fascinating scenes on the road, and red bananas. In Arusha, we stop for a nice locally produced cup of comfort and catch up with Eunice.
Over the past few months, she has conducted field research in the rural areas of Himo on behalf of the Mount Meru Foundation and Driving Nurses. This gave us insight into what a Mamabus with mobile ultrasound could mean in that region. During the conversation, we gain an even more detailed picture than what the report provided, which is extremely useful in preparing for our visit to Himo, which we will tell you more about later.
From Arusha, we drive on to Moshi. As the clouds start to part, we see Mount Meru in all its glory to our left. Roadworks cause some delays, and it's already late in the afternoon when we check into our hotel in Moshi. Although we are truly at the foot of Mount Kilimanjaro, there is no trace of the "giant of Africa" to be seen.
We don't have much time to freshen up because we are already quite late for our appointment with Agnes at KCMC, the training hospital for sonographers. We apologize for our lack of Dutch punctuality and learn that "African time" is likely more often a result of unavoidable circumstances than a deliberate choice.
Agnes is a nurse and midwife with an ultrasound diploma and experience. She works at KCMC hospital and has experience in guiding students. We are impressed by her personality and motivation. Additionally, she is eager to continue learning. We offer her the opportunity to undergo a sponsored hands-on training with our instructor Regina in Tabora. She eagerly accepts this offer and immediately asks when she can start! We hope that Agnes can have a role in the future on the Mamabus of the TPC hospital here in Moshi and/or as an instructor in the region.
It's only half past seven in the evening when darkness rapidly falls. Tanzania is just below the equator, and day and night are equally long, with little street lighting. Like shadows, we make our way through numerous stalls with goods, chaotic traffic, and a haphazard crowd of people. At a local spot on a quiet dirt road, we order pizzas. We raise a toast to a productive day with a Kilimanjaro, a famous local beer made from local ingredients, and the crystal-clear water from the roof of Africa – the mountain that unfortunately didn't reveal itself today.
Moshi (1): investing in the future!